RAPTURE
noun:  intense pleasure and delight
synonyms:  beatitude, bliss, buoyancy, cool, delectation, ecstasy,
elysium, elation, enchantment, enjoyment, euphoria, exhilaration, inspiration,
nirvana, paradise, passion, pleasure, ravishment
VISION: TO ACHIEVE RAPTURE THROUGH VISUAL ART
Art Rapture is focused on bending the boundaries of the traditional Canadian landscape through art.  We showcase a blend of pop, urban, and contemporary art.  Since 2016, we have successfully exhibited over 100 talented artists including Andy Dixon, Okuda San Miguel, Ola Volo, iHeart, William D. Higginson, Keya Tama, Lauren Brevner, Sean Jantzi, Bracken Hanuse Corlett, Denial, Jason Dussault , Taka Sudo, Scott Sueme and Olga Rybalko among many other exceptionally skilled artists.  We've placed thousands of artworks in the hands of exuberant collectors.  Art Rapture is excited to carry the momentum forward and is committed to providing exquisite artwork and exhibitions to tantalize your senses for years to come.
Two foundational principles guide our approach to collectors whether they are first time art buyers or seasoned art addicts.
1. Love your collection: only acquire what you love and you will never make a bad decision.
2. Evolve your collection: once you find what you love, take your collection to the next level.
THE THROWBACK
"The Throwback," an extraordinary event curated by Art Rapture. On September 23rd at the iconic Ironworks building in Vancouver, 950 people rallied around a one-of-a-kind experience that paid homage to the masters of the past while celebrating the boundless creativity of today's artists.
Guests were immersed in over 3000 sqft of exquisite artwork, carefully crafted by over 15 exceptional artists who drew inspiration from the masterpieces that shaped art history. From the captivating works of Andy Dixon and Ola Volo to the mesmerizing creations of Bracken Hanuse Corlett and William D. Higginson, this event showcased a diverse range of talents that left patrons awestruck.
With its unique heritage ambiance and 15 ft ceilings, the Ironworks building provided the perfect backdrop for this artistic journey. The vibrant atmosphere, live music, cocktail & wine bar, and social spaces created an unforgettable setting for art enthusiasts, collectors, and the general public.
"The goal in life is rapture. Art is the way we experience it." - Joseph Campbell
ANDY DIXON "HYGIEIA"
SOLD OUT
"Hygieia," the Goddess of Health, is a limited edition series of lithographs by Andy Dixon.
Through an innate appreciation for the arduous, analogue printmaking methods of past greats, such as, Picasso, Matisse, Renoir, Lautrec and Chagall, a collaboration was born between Andy Dixon and Art Rapture. Leveraging stone lithography to create these high end fine art prints, the result is sumptuous. Raw line work exemplifying Dixon's iconic oil pastel methods, draws the viewer in to a symphony of Greco-Roman art coalesced with modern pop art energy.
VIEW COLLECTION HERE
GIVING BACK
RAISED OVER $30,000 SINCE 2016
Art Rapture is committed to supporting charities that impact communities we care about. Since 2016, we have raised over $30,000 for the One Girl Can, YWCA Metro Vancouver, Red Cross Humanitarian Efforts, The Writer's Exchange, Feed The Frontline Canada, the Greater Vancouver Food Bank, Dr. Peter Aids Foundation and The Push For Change.
2023 CHARITY PARTNER
Art Rapture is proud to partner with ONE GIRL CAN as our charity partner for 2023.
We look forward to hosting ONE GIRL CAN at our next exhibition, The Throwback in September 2023.
One Girl Can gives some of the world's most vulnerable, high-potential girls a chance to rise above extreme poverty and gender inequality. Through education, training, and mentoring, girls are empowered to achieve their goals, earn a meaningful living, and build better lives — for themselves, their families, and their communities.
LEARN MORE HERE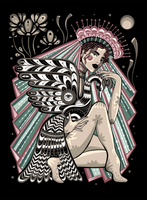 TERRA WITH SWAN
SOLD OUT
Terra with Swan is a wonderful example of Ola Volo's ability to draw the viewer in to her world of delicate, majestic beauty. Ola Volo deliberately depicts the swan with fictional attributes showcasing it's otherworldly, enchanting charm.

The female figure caresses the swan, an Eastern European symbol of prosperity, loyalty, artistry and opulence.

The bird's feathers are delicately rendered with its curved neck suggesting a sense of quiet dignity. Overall, Terra with Swan is a striking and evocative piece that captures the wonder and serenity of the natural world.
VIEW COLLECTION HERE
RAPTURE EDITIONS
Rapture Editions is a division of Art Rapture. As a boutique fine art publishing house, Rapture Editions focuses on hand created, not digital duplicated, limited edition artwork. We work tirelessly to provide our collectors great art, by great artists in a top quality, highly collectible format at exceptional value.
The Rapture Editions blind embossing stamp is a mark of quality and authenticity. Every Rapture Editions print will have this seal of approval.
Check out the "Shop" for images and print availability. Happy Collecting!